Avoid Talc and Bismuth additives
Posted by OPERATIONS SUPERVISOR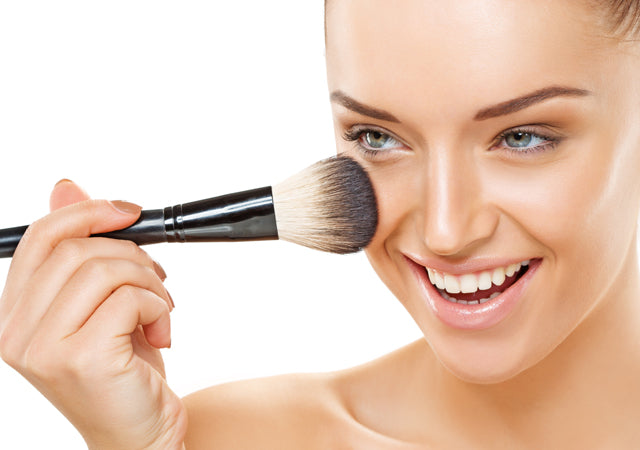 The market is flooded with cosmetic and skin care goods, many of which contain hidden poisons. Makeup products may be the worst of these. If you want to be healthy but use foundation and eye make-up, is it possible to do so without risking your body with harmful beauty chemicals? Yes, you can change your cosmetics just like you can ditch toxic foods and harsh cleaning supplies. 
We pride ourselves on creating skincare products and makeup that are made with premium ingredients and strive for them to be healthy. Our makeup is primarily made with minerals and naturally sourced ingredients. However, it is still important to be aware of the negative ingredients such as talc and bismuth oxychloride. Keep reading to learn more about each one and why we don't include them in our products.
Talc: From baby powder to eye shadow, talc powder is often used in cosmetic and personal care products, though there is potential evidence that it may be unhealthy. It is primarily used to absorb moisture, soften, or smooth products, avoid caking, and create opaque makeup. 
Bismuth Oxychloride: Bismuth , a byproduct of the processing of lead and copper metals, is combined with chloride (a chlorine component), water, and other ingredients to create bismuth oxychloride, a substance that is rarely seen in nature. Because of its distinctive shimmering, iridescent look and fine, powdery texture that adheres nicely to skin, it is often used in cosmetics. It is a commonly used filler because it is inexpensive, but it can be irritating, can result in allergic reactions, clogged pores or irritated skin. You won't find this in our loose mineral products either!
It's clear that these two cosmetic additives are not good for overall health which is a major reason why we do not include these substances in any of our mineral products. We want to avoid any harsh chemicals that are manmade and irritating to the skin. 
Our loose mineral makeup is made with 100% pure mineral mixtures that have rich pigment and offer fantastic coverage. Made without additives such as talc or bismuth oxychloride this is a healthy alternative for your makeup needs. In fact, it is made from just the purest pulverized minerals from the earth. To make your own unique colors, you can combine different colors to make your own unique color. Check out some of our top favorite colors from our extensive mineral makeup list.  Try out your favorite color, or mix and match to find the best option for you using one of our color kits.
XO,
Deluvia
Collection 2019
Sale 70% Off
Title for image