The Story of Four Women
Posted by ELLY ELLY@DELUVIAUSA.COM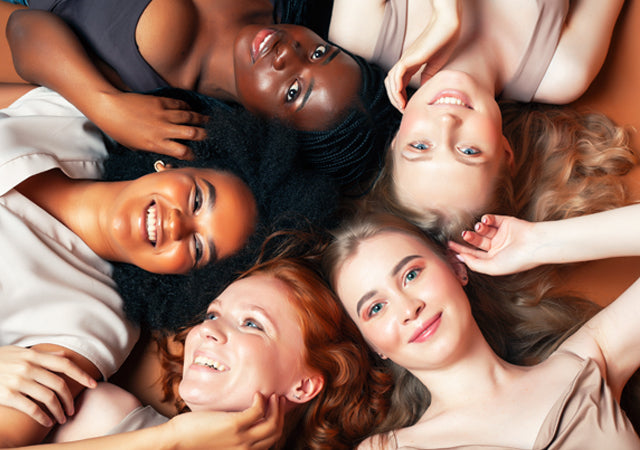 Every person's experience with Deluvia is unique and we decided as a change of pace to share a few of our customers' firsthand experiences. We hope you find them enlightening and perhaps one will resonate with you!
Sophia Discovers Deluvia
Sophia was the pragmatic sort, a financial analyst by trade, numbers were her comfort zone. So, when it came to skincare, she needed products she could trust. After a particularly stressful week of balancing budgets, she stumbled upon Deluvia during an online search for 'skin stress relief.' Intrigued by the reviews and ingredients, she decided to give it a shot.
Her first order consisted of the Deluvia Hydrating Mud Mask and the Miracle Aloe Cream. On her Saturday self-care day, Sophia applied the Dead Sea mud mask. The creamy texture felt like a spa treatment, and the scent was light, which she liked. After rinsing it off, her skin felt cleansed and exfoliated, as if the stress of the week had been washed away. This was followed by the Miracle Aloe Cream, which seemed to melt into her skin, leaving it feeling supple, nourished and not greasy. Her complexion looked healthier, and she felt a boost in her confidence.
Turns out that the Deluvia Miracle Aloe Cream is a top-selling product and not only does it have the skin-friendly aloe vera ingredient, but it is also combined with a unique blend of botanical extracts that are targeted to help hydrate the skin and absorbs deep into the skin.
Deluvia Hydrating Face & Body Mud Mask gently exfoliates and hydrates while enriching the skin with essential minerals. The Mud from the Dead Sea is one of the most powerful purifying agents in nature, and provides an effective cleansing mask for glowing, healthy-looking skin. This Hydrating Mud Mask has additional moisturizing ingredients in it, as well as a creamier texture, so the gentle exfoliating formula is well suited to use on both your face and body. As an added bonus, it comes with a free silicone brush applicator.
A handy tip to know is that Dead Sea mud can sometimes get dry from exposure to air but simply add a bit of clean water to it, blend it in and it's ready to use again.
In the following months, Sophia found herself experimenting more with Deluvia's line-up. Being a woman who liked to do Google research, she spent some time learning about ingredients and their benefits. She was particularly intrigued by the Deluvia HydraSkin Facial Serum's composition, which is a blend of twenty-four ingredients, including botanical hyaluronic acid.    
Sophia's growing interest in skincare led her to a hobby blogging about her experiences. She began sharing her journey on her blog, telling her readers what she thought and shared a few progress photos. Some of her friends started noticing her radiant skin. Sophia had found a harmonious balance with her nurturing, feminine side.
Sophia was always the meticulous one, thoroughly reading the labels of her products. That's how she discovered Deluvia Awakening Eye Gel. Intrigued by the blend of natural ingredients, she decided to give it a shot. She wanted to improve the look of fine lines near her eyes, and Sophia wanted to put it to the test.
Within weeks, she noticed her skin felt smoother and looked more youthful. Even her tiny laughter lines seemed less noticeable to her. She loved the way the gel made her skin feel and decided to make it part of her daily skincare regimen.
Deluvia Awakening Eye Gel has a potent peptide complex that is lightweight and hydrates to minimize the appearance of wrinkles and helps improve the look of your skin. It penetrates deeply to help transform the appearance of the delicate skin around your eyes.
Marilyn's Deluvia Journey
Marilyn was an aspiring actress, always under harsh lights and heavy stage makeup. She was in constant search of products that would not only remove the stubborn makeup but also nourish her skin. On a tip from a makeup artist, she discovered Deluvia Miracle Aloe Cream and their Shea Body Butter with Dead Sea minerals.
Marilyn was initially skeptical, but from the first use, she was hooked. The Miracle Aloe Cream was a revelation - it soothed her skin, helping the redness that often resulted from her heavy makeup use. Marilyn noticed that her skin looked better, making her feel more radiant on and off the stage.
As Marilyn's acting career started to take off, the demand on her skin increased. Long hours on set, under heavy makeup, was taking its toll. Remembering the wonders Deluvia Miracle Aloe Cream had done, she turned back to the brand, this time to try their Hydrating Eye Cream.
The cream was soothing and reduced the look of puffiness from her late nights. Her eyes seemed to look brighter, and her makeup artist even commented on the improvement. The Deluvia products were helping her skin deal with the stage makeup, ensuring that she always looked her best under the spotlight.
One day, on set, Marilyn experienced a skin crisis right before a big photoshoot. She decided to try the HydraSkin Turbo Creme. Marilyn applied the creme that evening and left it on while studying her lines. Washing it off, she felt an immediate difference – her skin felt cleaner and nicely moisturized. The next morning, her skin looked better, saving her from a potential disaster. The creme had quickly become Marilyn's skin savior.
The HydraSkin Turbo Crème has glycolic acid which gently exfoliates dead skin off the surface of skin. It's made up of advanced and proven ingredients available to help increase hydration, diminish the look of wrinkles, minimize irritation – for healthier-looking skin.
Bridgette Finds Deluvia
Bridgette, a busy mom of three, barely had time for a skincare routine. Most days, she was lucky if she managed to swipe a makeup remover wipe across her face before collapsing into bed. But when her oldest daughter started asking about skincare, Bridgette knew she needed to set a better example.
During a mother-daughter day out, they came across Deluvia products at a health food store. Intrigued by the botanical ingredients, Bridgette purchased the Deluvia Soothing Dead Sea Mineral Salts. The Dead Sea salts quickly became a part of her once non-existent weekly bath routine. The salts left her skin feeling incredibly soft, but more importantly, it gave her a few precious moments of pampering in her hectic week.
Bridgette found herself getting more engrossed in her skincare routine. It was no longer just about looking good but feeling good too. She started to explore the Demure mineral makeup line by Deluvia. The first product she tried was the Mineral Foundation. It was light, natural, and it didn't clog her pores like her previous makeup did.
Bridgette's Mother-Daughter Bonding
Bridgette's introduction to Deluvia had an unexpected but welcome side effect. It became a bonding experience with her daughter. They held weekly "spa nights," trying out different Deluvia masks and scrubs.
When Bridgette tried Deluvia's Hydrating Dead Sea Mud Mask, she was amazed at the difference it made. With its rich, creamy texture and soothing scent, it felt like a luxury treatment at the end of her long day. Her skin felt softer and refreshed.
Gail Finds Demure Cosmetics
Gail had been pretty much avoiding makeup, except for special occasions, because she found that she seemed sensitive to ingredients and she would either have a rosacea flare-up or feel itchy. But she also felt she looked better when she wore it.
Then a friend told her about Demure mineral makeup by Deluvia and that it was pure minerals without any additives and she should try it. She got samples of a few things including foundation, blush and an eye color to check out. She'd heard somewhere that dermatologists often refer patients to try loose minerals because they let skin breathe and it well tolerated by sensitive skin.
She was pleased with the results. Her face didn't react and the makeup wasn't cakey and gave her a polished look and evened out her skin tone. She found it gave her a flawless finish and was affordable, which she appreciated. She also realized that she controlled her coverage; if she wanted more, she just brushed a bit more on.
The Demure loose mineral makeup line uses minerals taken from nature to create an endless array of colors. The loose minerals do not contain any talc, oil, fragrance, filler, or other harmful chemicals or skin irritants.
These are the beginnings of Sophia, Marilyn, Bridgette and Gail's* journey with Deluvia products. Each woman found products that worked for her, enhancing not just their natural beauty but also boosting their self-confidence.
Do you have a story like this you'd like to share with us? Feel free to contact us at customerservice@deluviausa.com. We'd love to hear from you!
Frequently Asked Questions
What are the Benefits of Aloe Vera?
Aloe Vera, the modest house and garden plant is a 'miracle,' wonder plant and has been used as a medicinal herb for years. It is known to nourish the body from the inside – it is rich in nutrients, aids in improving digestion and is said to even boost immunity. Aloe Vera can be used topically to enhance one's skin, especially the face and the hair. Research shows that it helps soothe sunburns, moisturizes skin, contains antioxidants, and has vitamin C and E, beta-carotene in abundance.1
Benefits of Aloe Vera https://pharmeasy.in/blog/9-aloe-vera-benefits-for-face-skin/
Is Moisturizing Important For Your Skin?
Yep, moisturizing improves skin hydration and increases the outer layer of your skin's water content by directly providing water to the epidermis and increasing occlusion to reduce surface epidermal water loss, it also covers small skin fissures, provides a soothing protective film and protects skin from friction.
The Role of Moisturizers https://www.ncbi.nlm.nih.gov/pmc/articles/PMC5849435/
How Does Hyaluronic Acid Work?
Hyaluronic acid attracts and binds to water molecules and increases the water content of the skin. It can absorb more than 1,000 times its weight in water, an unbelievable ability to retain moisture. It is popular as an anti-aging ingredient because plump, hydrated skin makes fine lines and wrinkles less visible. Over time, your body's stores of hyaluronic acid decline. Age is one reason, but environmental factors — such as smoking and air pollution also accelerate this process.
Hyaluronic Acid Benefits https://www.everydayhealth.com/skin-beauty/hyaluronic-acid-definition-benefits-and-the-best-serums/
What are Some Benefits of Dead Sea Minerals?
The minerals from the Dead Sea are naturally anti-bacterial, anti-inflammatory, and contain antioxidants that can help reduce the appearance of wrinkles and promote mineral absorption. Dead Sea minerals also have a gentle exfoliation effect that helps to remove surface dead skin cells, making them great for acne or problematic skin.
Benefits of Dead Sea Salts https://www.webmd.com/skin-problems-and-treatments/health-benefits-dead-sea-salt
Do you have a question you'd like answered? Let us know and we'll answer it in an upcoming blog post!
XX00,
Deluvia
*
Names changed for privacy
Collection 2019
Sale 70% Off
Title for image