Holiday Makeup Ideas
Posted by OPERATIONS SUPERVISOR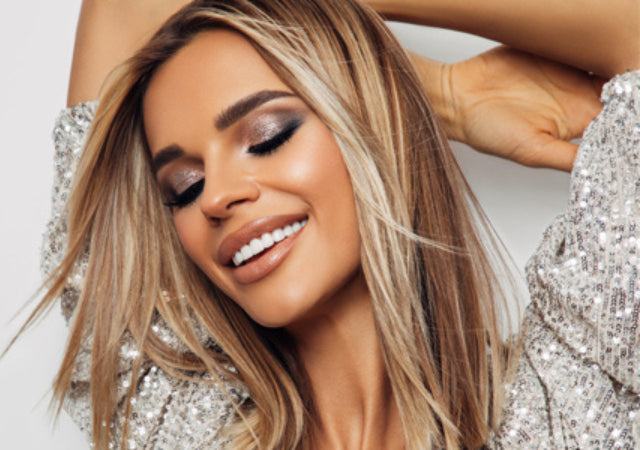 While there are numerous reasons to enjoy the holidays, wearing Christmas makeup is our top priority (well, alright, it comes in second right after opening presents). Because of the festive parties, quality family time, and enchanted ambiance, it's a great excuse to go all out with the jewel tones and glitter. Even if we're just getting back into events, any occasion you have coming up is a great chance to refresh your makeup supplies and use the eyeshadow palette you hastily bought in June.
We've compiled all the cosmetic ideas we've been accumulating since January to give you options for every imaginable circumstance, from classic cherry lips to wild neon. You can recreate the best Christmas and holiday makeup looks this season.
Glam for the Holiday:
Winged liner and red lips are seasonal mainstays, but this rendition feels new thanks to the Deluvia dreamy Gold Shimmer eye shadow. This will give your holiday look an amazing glow that will light up any room you step into this holiday season. And of course, for a classic look, our Lady in Red matte lipstick topped with White Diamond gloss adds beautiful sparkle to your lips.
Emerald Eye Color:
Green is the staple color of the holidays! You can't go a full holiday season without this glamorous look. Richer hues like emerald, sapphire, and amethyst are ideal for the winter. To really make your eyes pop, keep everything else neutral. The best Deluvia combination for this look is the Emerald Green eye shadow to make your eyes pop. To keep the rest neutral, consider the Mineral Light foundation with the Pink Champagne lipstick to round out this look!
Snow Globe Eyes:
Want to get into the holiday spirit even before the snow hits? Consider putting together gorgeous snow globe eyes with shimmering eye shadow to highlight the neutral colors on the rest of your face. To enhance this eye look, use the Deluvia Snowflake eyeshadow combined with a shimmering blue Mermaid Frost color to further enhance the look! 
Grinch Eyeshadow:
Nothing says Christmas like the Grinch movie! Even the most cynical of your pals will be impressed by the out-of-the-box yet on-theme choice of lime shadow. This gorgeous shade can be found in the Deluvia eye shadow line. Combine Lime Frost with Green Khaki to create this holiday look! 
Total Classic:
You really can't go wrong with soft brown shadow, rose lipstick, and lots of highlighter, whether it's for the holidays or not. An updo and pearl hairpins elevate the look. Check out the Taupe eye color combined with our favorite Soft Rose lipstick. This combo will create a beautifully elegant look that will sparkle under all the holiday lights!
These timeless makeup looks are just glorious for the holidays, offering you the best makeup for whatever events you're attending. Whether it's the office holiday party, Christmas morning, or New Year's Eve, get spruced up with all of these cute makeup looks. 
XO,
Deluvia
Collection 2019
Sale 70% Off
Title for image