Our inner "Emily in Paris"
Posted by ELLY ELLY@DELUVIAUSA.COM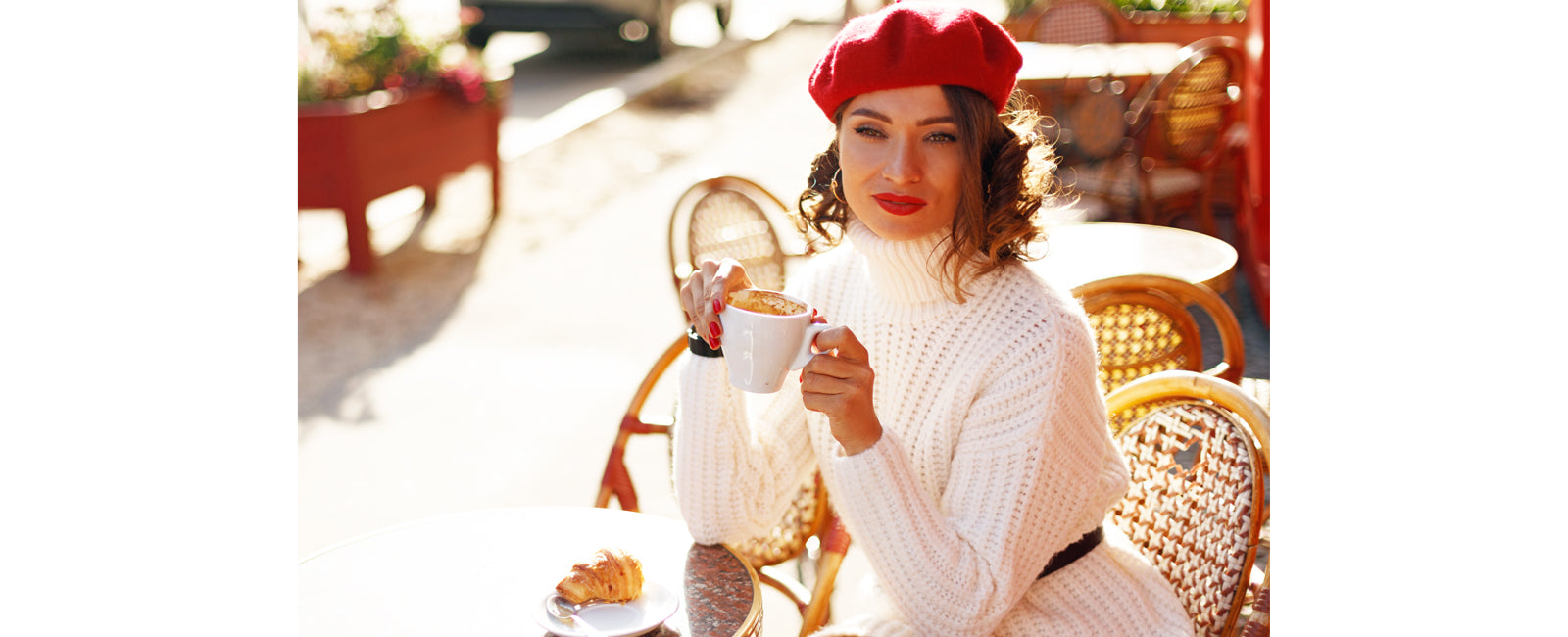 The Netflix hit show "Emily in Paris" follows ambitious marketing executive Emily Cooper (played by the beautiful Lily Collins) as she is given a once-in-a-lifetime opportunity to work for a marketing firm in Paris, to be the "American voice" at this French agency. Life in Paris - who can say no!
Sometimes people need light, romantic comedies especially when they are set in a beautiful city - yeah, we totally get the hype! 
Each episode is filled with amazing wardrobe, styling and makeup and we can't help but be in awe of the beautifully applied makeup on the cast and specifically Emily's lipstick game: deep brown shades in the daytime and bold reds in the evenings. Well, we thought about it and to re-create one of our favorite Emily looks, we simply recommend eyeliner and red lips. Eyeliner for sure but switch up the shade of your lip color if you wish - et voilà!  You can adjust the thickness of your Black Eye Liner as well, depending on the occasion or time of day - subtle during the day and full glam at night. We adore these looks.
Of course our classic Lady In Red Matte Lip is perfect for that bold, red color!
But besides drooling over Gabriel's dishes (Gabriel is the handsome chef in this show, played by French actor Lucas Bravo), what we learned from "Emily in Paris" is this:
Your work will always speak for itself, so do your best and be proud of it.
Never give up on your dream job. People who truly support you will not ask you to stop trying to land that dream job.
It's okay to make mistakes. Own it and take full responsibility for your actions (Emily has made a few bad decisions but she always went above and beyond the fix what she had done wrong) - quite admirable.
Use a bad situation as an opportunity to learn and grow. As they say: Grow through what you go through.
One quality that stands out though, is Emily's sheer positivity. This trait lends her an aura of charm and happiness. Radiating positivity must be her motto! Positivity is a mindset that makes life and relationships meaningful, and we do believe, more successful as well. So, the tip to "just smile" is actually not such a bad one.
We catch ourselves watching our favorite shows on repeat, so as we watch "Emily in Paris" all over again (hoping for the next season!) we are really taking in these lessons: laugh more, fear less, stand up, keep going and have fun!
You can go to to Netflix to watch "Emily in Paris" for a bit of fun!
And remember to be your own kind of Emily - as you are you and that is your superpower!
XO,
Deluvia
Collection 2019
Sale 70% Off
Title for image