10 Tips to Add Moisture to Dry Skin During the Cold Weather Season
Posted by ELLY ELLY@DELUVIAUSA.COM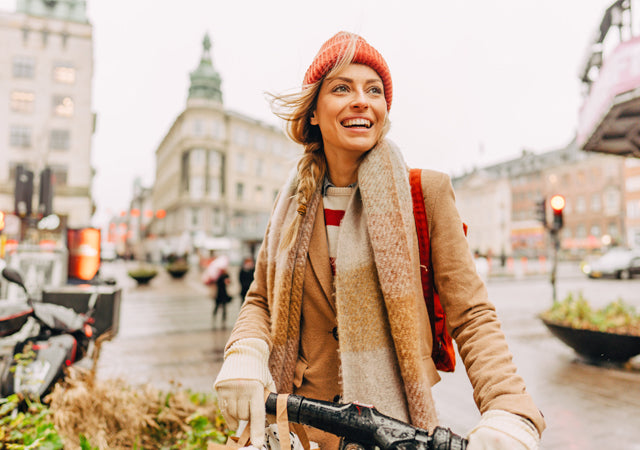 Winter and the cold weather season is here with all its charms. Depending on where you live, that could mean waking up to fields of white snow, tucking yourself into big scarves, sitting next to cozy fires and indulging in hot baths.
While we may love many of the things the cold weather season can bring, it can also bring us elements that make our skin lose moisture and lead to dry skin. So how do we relish in the pleasures that cold weather has and still give our skin added moisture? Well, we've got a few helpful tips to give your dry skin the moisture it needs.

1. Humidity Can Help Your Dry Skin in Cold Weather
The outside winter weather is dry. Cold weather doesn't hold onto as much water as say, the moist air on a humid summer day in Florida. Winter weather doesn't have much humidity and this can create moisture loss and dry skin because when there's less moisture present in the air it can sometimes draw it from your skin. To help humidity levels and release water droplets into the air you can add a humidifier in your home or office, they are very effective at helping you improve dry skin and retain a more hydrated look.
Dermatology expert Dr. Kenneth Arndt, a Harvard Medical School professor, recommends setting the humidifier to 60% to help restore moisture in the upper layers of your skin[1].
2. Avoid Dry Skin With Cooler Indoor Temperatures

We all know that coming inside out of the cold weather makes you want to crank up the temperature on the thermostat. Sure it's a natural reaction but then the body's natural reaction is to leave you with dry skin. To keep your skin hydrated, set temperatures between 68-75 to avoid over drying your skin.
3. Use a Premium Lotion After Showering to Enhance Moisture


Anytime you wash your face, hands or bodily
skin
you remove some of your natural oils, that's why it feels so good to lock in moisture right after a revitalizing shower. When you step out of a bath or shower pat your skin with a towel, but before your skin is completely dry apply your chosen
moisturizer
. This will help your dry skin caused by the cold weather. 
A great all body moisturizer is Deluvia Face & Body Lotion as it's enriched with Vitamin E and Aloe Vera. It is formulated with plant extracts, Vitamin B5 and natural oils known for their skin moisturizing benefits.
For a richer moisturizing cream, there is our Miracle Aloe Cream enriched with a highly potent Aloe to give your dry skin superior moisture.
As a last note on this, according to an article from Everyday Health, use jars not pumps. "For the body during the winter, I recommend using a thicker cream that comes out of a jar or tube as opposed to a pump," says Naissan O. Wesley, MD, a board-certified dermatologist based in Beverly Hills, California. "Lotions that come out of a pump tend to be thinner and more watery, so they can often just evaporate from the skin's surface after application and are not thick and moisturizing enough." [2]
4. Help Your Hands with Hand Cream and Gloves

The skin on your hands is very thin and has fewer oil glands than in other places on your body. Using a great hand cream can help lock in moisture. It's good to buy a travel size to stick in your purse and take with you wherever you go.
During the winter season you can also help prevent dry skin by wearing gloves. Wearing gloves will help keep the moisture retained. 
Now this may be a new idea for you. Perhaps you're not the kind of person that wants a constricted feeling on your hands and you'd rather slip them into deep coat pockets for the duration of winter season. Perhaps certain materials cause a different kind of irritation. 
Although if materials If wool gloves irritate your skin, you could wear a thin cotton glove underneath, or find a material that is a perfect match for your skin. There are many brands that focus on comfortability and make gloves in more comfortable materials such as nylon, polyester or even a leather blend. 
5. Avoid Hot Bath Temperatures

We know it can sound tempting during the cold winter weather to slip into a hot bath or jacuzzi level water temperatures but try to avoid it. The hot water temperature is said to melt away the body's natural oils can also strongly dry out your skin. It may even lead to itching and irritation.
It's said to be best to take baths and showers in lukewarm temperatures. You can also find a great skin moisturizing bath soak.
But paying attention to the time and limiting yourself to a 5-to-10-minute bath or shower per day is suggested in an article by the Harvard Medical School[3].
6. Hyaluronic Acid Can Soothe the Skin
Hyaluronic Acid is something you may have already heard about and have a clue that it is supposed to improve the moisture in your skin. But what is this? I continually see articles that just breeze this word into their sentences as though the entire world understands the chemistry of cosmetics. Hyaluronic acid is a highly technical word and also one that you should know because the information surrounding it can help you improve the look of your skin.
First, what is it? According to the online dictionary Google provided, hyaluronic acid is a molecule which is one of the chief components of connective tissue, forming a gelatinous matrix that surrounds cells. When I hear "gelatinous matrix that surrounds cells" I envision a gel-like substance that encompasses your cells, giving a layer of moisture and reducing dryness.

You can now get it as a concentrated serum that helps support healthy skin.
7. Choosing the Right Soap

Soap can dry out your skin because it removes natural oils that are there to protect it. Of course we need soap to remain hygienic but with this comes a cost, especially during the dry cold weather season. 
Although there are many different kinds of soaps, there can be miles of differences between the ones people choose. If you choose one with harsh detergents for .99 cents you can expect added dryness in your skin. But choosing one based with gentler components such as Shea butter, can leave your skin feeling far more refreshed and rejuvenated.
8. Shea Butter Smooths Dry Skin

Speaking of Shea Butter, this is a fantastic ingredient to use in many products for your face, hands, feet and entire body. 
Shea butter is an emollient full of vitamins that boost the moisture in your skin and hydrates it gently. Shea butter contains fatty acids that smooth the skin and enhance its natural barrier. It can also protect your skin from damage caused by pollutants in the environment. 
By itself, in a raw form, shea butter is a very solid substance so it's best used as an ingredient in a moisturizer or cream so it's easier to spread on your skin.
Face: For your face you can use it as a gentle option to moisturize dry facial skin. Shea butter will help create a protective barrier over dry skin on your face that slows down water loss.
Lip: Your lips want some Shea butter action too! Don't forget about them. Your lip skin gets affected by the same conditions your hands and cheeks are. But there are great options to help them and a variety of lip balms that can restore the dry skin on your lips to their previous glory before the cold weather slipped in. 
Lip balms with Shea butter can add extra moisture and nourishment without giving you a sticky or greasy feeling.
Foot: And what about your foot? Your foot is naturally dryer than other areas making it more prone to dryness and cracking during the winter months. If you already have a buildup of dead skin and callus on your heels, the cold wind or blasting heat from indoor heaters can dry the skin on your feet leading to cracking in your skin. Shea butter is a renowned ingredient in foot creams and generally accompanies other gentle ingredients that will help bring hydration and moisture back to your desert island feet.
9. Can Cold Weather Cause Sensitive Skin? 

Cold weather can cause "red bumps, sudden redness/flare-ups of the skin, sudden irritation, swelling, and sometimes flakiness," said Emina Avdukic, European Education Manager for scientific skincare brand Perricone MD.[4]
Basically, sensitive skin can have an especially rough time in winter...keeping sensitive skin balanced during this season can be a trial. But, if you have sensitive skin then this may be of help. In an article by Forefront Dermatology it says "most people think of sensitive skin as skin that is easily irritated. You may find that certain products or environmental factors cause you to get red, itchy, or even break out."[5]
If that's you then you may need to take added steps during the winter season including not using toxic or irritating ingredients, not using alcohol on your skin and so on. You can read more about it in this post The Good Face Project.
10. Use Sunscreen in Winter

And on the subject of sunscreen...it's easy to remember to slather on a layer when it's summer and the weather is warm. There's just something that naturally indicates to us about sunscreen during those times.
But during the cold winter months it is also important to keep it in as sunscreen obviously protects your skin from UV rays which are present all year long. "UV rays damage collagen and elastin in your skin," says Dr Samer Jaber, M.D., of Washington Square Dermatology. "There have been numerous studies that have shown regular use of sunscreen have anti-aging effects."[6]
So grab your favorite lightweight sunscreen and continue to wear it even during the winter weather.
When does the cold weather start?
Cold weather frequently starts in Fall which is the end of September. The dates may change but can start by Sept 21st.
Those are just a few tips to help you through the rest of our cold winter months. Try them and see great results!
XOXO
Deluvia
[1] Harvard Health Publishing, How to moisturize your skin - Harvard Health
[2] Everyday Health, 10 Tips for Healthy Winter Skin | Everyday Health
[3] Harvard Health Publishing, 9 ways to banish dry skin - Harvard Health
[4] Cosmopolitan, Winter skin flare-ups: Advice & tips (cosmopolitan.com)
[4] Forefront Dermatology Article, 6 Signs You Have Sensitive Skin - Forefront Dermatology
[5] The Healthy, Sunscreen in Winter: Why It's a Must | The Healthy
Collection 2019
Sale 70% Off
Title for image